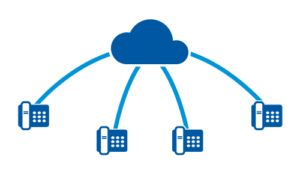 When looking at enterprise phone solutions, it's hard to beat the advanced features of a PBX or Private Branch Exchange. It's a private phone network designed for use within an organization. PBX is valuable because it can connect more phones compared to physical phone lines for less, and it delivers more innovative features users want like voicemail, transfers, interactive voice response (IVR), call recording, and queueing. Compared to physical phone lines or a premise-based solution, PBX is also more flexible and cost-effective. It used to be that if your organization wanted all the functionality that a PBX system delivered, the business would have to purchase, install, and manage all of the hardware, including all of the equipment needed on site. In this scenario, the PBX system is housed on-site, and it would operate much like a traditional switched phone system. Instead of a conventional phone system using a PSTN or Public Switched Telephone Network, however, the signaling is done with an IP phone to the IP PBX server using a LAN.
But what if you're running a lean IT department and don't have the person-power to manage it? Or what if you don't want to invest in additional hardware and equipment? Can you still get PBX? The answers are yes! Today, businesses have more choices when it comes to PBX. There are several options like hosted, cloud, virtual, or even hybrid PBX models, which each have their distinct advantages. For instance, cloud and virtual PBX offers extreme flexibility where businesses can scale up and down and pay per usage. With a cloud-based PBX solution, the system connects to a provider over the internet who operates and maintains equipment offsite. Services are delivered from the cloud-based data center, giving companies more versatility and functionality. The advantage of hosted PBX is that it provides a lot of calling features users to want at a lower cost, plus simpler management and greater scalability. Cloud PBX also includes auto-attendant features, VM to email, toll-free numbers, and virtual numbers where the line doesn't need to be connected to a physical office. Let's look at what hosted PBX can mean for your business and go over questions to ask when investigating your options.
Can I pay per seat?

Hosted PBX is where PBX providers run and manage all of the necessary servers and hardware at a remote location. This means the business doesn't have to invest in any equipment. Another advantage is that Hosted PBX is usually a business pay-per-seat. For example, if a company has 25 employees, they pay for the amount of server space and infrastructure usage needed for 25 employees. They aren't forced into paying for more capacity than they need. 

Can I bring my own broadband (BYOD)?

The short answer is yes. But the longer answer is you may not want to. There are three distinct options when procuring hosted PBX. In a BYOB scenario, a hosted PBX provider provides a business cloud phone service over the public internet. The hosted provider maintains connections to the internet and business customers procure their own internet connections, like from a local internet service provider. The second option with hosted PBX is where a company procures internet service from a cable internet service provider and procures hosted PBX services from a separate hosted VoIP provider. In a third scenario, no voice calls go over the public internet. In a dedicated transport scenario, an organization has a T1 or dedicated fiber line, as well as hosted PBX service from the same provider.

Who is responsible for my phone Quality of Service (QoS)?

One of the disadvantages of opting to go with a shared broadband scenario, where you're relying on a cable company for internet and another provider for hosted PBX, is that if there's an issue with service, it's not clear who is responsible. QoS issues are hard to pin down, and neither company is contractually obligated to maintain a certain level of service.  Delivering hosted PBX and internet from the same provider is the only way to guarantee service levels.

How much 'customization' can I get?

One of the primary benefits of hosted PBX, over analog lines, is that it offers tremendous customization capabilities. Maybe your business runs a contact center and requires advanced call routing and the ability to support remote agents? Or if you have a CRM system that you want to be linked to your PBX system, hosted options can help accomplish this. 
At a time when organizations are defined by how agile they are, high-quality communication services have never been more critical. PBX solutions are gaining popularity because they deliver reliable phone services for less, and allow businesses to choose advanced features and tailor the system to meet their exact needs.