We offer a comprehensive portfolio of products, solutions, and telecommunication services including Telephone & Collaboration, Network (WAN), and Cloud:
Which carrier service solutions are right for your business? Which carriers are best for your locations, your business structure, and your IT infrastructure?  To help you find out, we offer a complimentary analysis to baseline your current voice and data costs, and to design and provide an overview of the cost savings or the efficiency gains available to your company.
Telephone & Collaboration:  Whether you want to keep your current PBX phone system or find a new solution, we research and recommend the options to fit your analog, PRI, SIP, VoIP, unified communications (UC) and collaboration needs.
Network (WAN):  Provide scalable, high-capacity, high-bandwidth, and high-speed connectivity in reliable and secure environments allowing data transfers, media sharing, media streaming and collaboration.  MPLS, VPLS, Broadband, FTTC, DSL, fiber, copper EFM, 3G or 4G, and point-to-point:  All serve a specific purpose for organizations today, and each has strengths and weaknesses based upon an organization's geographic and IT infrastructure.  
Private, Public, & Hybrid Cloud Solutions:  As IT becomes more strategic and critical in impacting an organization's bottom line, companies look to the Cloud to decrease IT complexity and drive ROI. For some organizations, Cloud solutions can be more secure, predictable and scalable than on premise solutions.  We offer Disaster Recovery, Continuity, Co-Location, Helpdesk, Security, Mobile Device Management, along with Infrastructure Monitoring and Management solutions.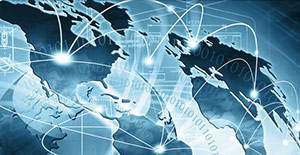 "During the past year, I have worked directly with Mary Muir, President of Core Connections, on implementing new telephone and internet services at my four locations. Not only were they able to save us money on our telecommunication bills, they offer quality implementation processes, honest recommendations and excellent customer service."
Ed Koehn
What Makes Core Connections Different?
We are invested in your long term success and are there long after the supplier sales person has gone.
Project Management
We manage our clients' telecommunication implementations
Bill
Review
We review our clients' telephone and internet bills on a regular basis to ensure accuracy
Outage
Resolution
We work with the carrier to resolve any telecommunication issues/outages enabling our clients to focus on other critical tasks
Disconnection Assistance
We work with the client to ensure that all old services are disconnected and no longer being charged
Our customer service, proven processes and knowledgeable support ensures:
Time savings, allowing you to focus on other critical tasks
Single point of contact: We manage all escalations
Many carrier options guaranteeing cost minimization
Call for your Telecom Analysis today!
Oklahoma Office:
9521 B Riverside Pkwy, #175
Tulsa, OK 74137
Main: 918-203-4770
Fax: 918-203-4786
Michigan Office:
2885 Sanford Ave SW, #45130
Grandville, MI 49418
Main: 616-588-8900
Fax: 616-588-8904