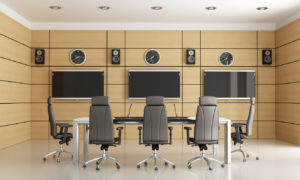 Video conferencing used to be the ultimate, high-tech office collaboration tool. We envisioned swanky boardrooms decked out with digital video cameras, audio equipment, high-def screens, and fiber optic networking equipment to make it all work together. Today, however, video conferencing doesn't look anything like that picture. Instead, most businesses require highly flexible and robust video conferencing solutions for all employees, not just those at the executive level. Whether teams are working from the central office in a huddle room, or remotely, they want video conferencing and web conferencing options that are intuitive and simple to use without help from tech support or AV teams.
At a time when the lines between web and video conferencing solutions are blurring, and business need seamless conferencing tools built 'for the masses,' what should companies do? For starters, organizations should set their priorities and 'must haves' for collaboration tools and look for solutions that match that plan. Video conferencing solutions that are easy to use, reliable, and have remote management capabilities should rise to the top of the list. Let's review critical questions to ask to find conferencing solutions for the digital era.
Is it interoperable with office tools?

Digital teams also want the ability to join meetings quickly and easily. Plus, users expect a seamless workflow for each meeting regardless of whether they're on their home network or guest Wifi offsite. Interoperability between video conferencing solutions and office tools is also a top priority. For instance, if your sales associate is having a meeting with a customer, they need their video conference solution to be interoperable between traditional room systems and desktop productivity tools like Office 365 and G Suite.

Do I need remote management capabilities?

Updating software to support 10 conference rooms isn't that difficult. However, if you have hundreds of video-conference endpoints, with smart speakerphones, and each running a different set of apps, keeping that system up-to-date and running smoothly is a challenge. With a large deployment, remote meeting room management tools will pay for itself many times over and eliminate headaches for users trying to get connected and stay productive.

How user-friendly is the solution?

One key consideration when looking at video conferencing options is, of course, usability. If the tools aren't simple and easy to use, your team likely won't adopt them as part of their everyday workflow. Companies should make sure users can simply turn on the video conference display or projector to start the conference, present, or initiate a video. The system should also give users the ability to easy switch between different display formats in a conference session and resize the display depending on the need. Users shouldn't require tech support to make these changes. Also, it's important to know how many webcams you need to support. Many video conference solutions limit webcam support and don't support HD displays, which could hinder the lifespan of the solution as your business grows.

Is web conferencing an option too?

Another significant consideration for conferencing solutions is if the solution can support web conferencing. Does your team need the ability to host video conferences from their smartphones and laptops inside or outside of the office? What about showing product demos, holding online video training, or collaborating? Then, on top of HD screens and video conferencing systems set up in your conference rooms, you'll also need seamless web conferencing capabilities available from computers, tablets or smartphones. Many portable devices today come integrated with full-fledged teleconferencing software, such as Google Pixel. The device comes with teleconferencing software and a high-quality front camera and 1080p video capturing quality. (Source:

Tech.co

).

Web conferencing tools built-in to video conferencing solutions are critical because they provide a more consistent and self-service user experience. Integrations with email programs like Office 365 also streamline scheduling by making it possible to send conference invitations directly from an Outlook calendar or another email tool.
Video collaboration for all Video conferencing capabilities are just one important aspect of your overall collaboration strategy. Be sure the solutions you choose today are flexible and dynamic enough to support users' needs today and down the line.  Look for video conferencing applications that simplify the collaboration toolset and help enhance the users' experience, whether individuals are using the application in the boardroom, a small conference room at a branch office, or they're working remotely.